Consultations with senior church and political leaders in Germany 2 July 2015
Background
Based on the cooperation between the EFSA Institute and the "Evangelische Kirche in Deutschland" (EKD), and its development agencies – now Bread for the World, and the formal partnership with the "Evangelische Akademie Tutzing", there have been an exchange on public challenges and issues facing churches, communities, and governments in Germany and South Africa over the past 28 years. The dialogue to strengthen ecumenical cooperation between Germany and South Africa, and mutual cooperation on critical challenges, continue with a new focus on how we could jointly address the challenges of Democracy, Religion and Development in a North – South dialogue.
Rationale
We have a shared responsibility – across the regions of the world, across political divisions, across cultural and religious diversity, across economic and social differences – to ensure and shape a future for the coming generations. The challenges we face on a global, regional and local level are similar and related: poverty and inequality; rapid technological changes; protection of the environment and natural resources; interfaith and inter-cultural cooperation; strengthening democracy and social justice, addressing the causes of migration and refugees….
Through dialogue and conversations with leading religious, political, business and civil society leaders, we strive to foster better understanding for the complexity of the challenges we face to strengthen mutual cooperation and trust and to facilitate common action through partnerships.
Based on meetings between Bishop Dr Wolfgang Huber (retired chairperson of the Council of EKD) and Bishop Dr Heinrich Bedford-Strohm (current chair of the EKD-Council) and Archbishop Dr Makgoba in Cape Town earlier this year, a number of consultations took place in Berlin, Germany on 2 July.
Berlin consultations: 1-2 July, 2015
Archbishop Dr Thabo Makgoba [Anglican Archbishop of Cape Town and Chairperson of the National Church Leaders' Consultation (NCLC)] and Dr. Renier Koegelenberg [Director of the EFSA Ecumenical Institute, Secretary of the "National Religious Association for Social Development" (NRASD)] met with a range of senior church and political leaders in Berlin to discuss closer cooperation on a number of issues:
At a special reception of the Lutheran Church for senior political leaders, parliamentarians, church leaders and representatives of government departments and agencies, hosted by the Chairperson of the Council of the EKD – Bishop Prof Heinrich Bedford-Strohm, greetings were exchanged and meetings took place with President Joachim Gauck (a former church leader in the democracy movement in former East Germany) and Chancellor Angela Merkel.
On the same evening a special meeting took place with the Federal Minister of ForeignAffairs, Dr Steinmeier, on how could ecumenical networks strengthen peace processes and democracy – in all the parts of the world, but especially in Europe and Southern Africa? Dr Steinmeier indicated that even in secular Europe the importance of churches and faith communities in shaping values and direction are acknowledged in public life. He also highlighted the unique feature of German politics – that coalitions has taught all political parties to treat another with respect – to seek consensus and cooperation on national challenges. This has ensured social stability and economic development – over many years.
In a separate meeting with State Secretary of the German Development Ministry [BMZ, Mr Thomas Silberhorn]: how could the ecumenical and interfaith networks in South Africa cooperate with the recently special programme of BMZ on "Values, Religion and Development" – in the context of the new Sustainable Development Goals? This meeting follow-up on some of the challenges raised at a previous meeting with Dr Gerd Müller, German Minister of Development. Germany is one of the leading countries in the international trend to seek closer cooperation between state development agencies and the relief, development and peace interventions of faith communities.
Meetings with senior church leaders e.g. the Official Representative of the Lutheran Church to the Federal Government and the European Union (Dr. Iro and senior staff) – focused on the pastoral support of the church to parliamentarians and the official dialogue on issues that effects the church and society. It also coordinates international cooperation between the Lutheran Church and the German Federal Government – when it comes to support relief programmes in disasters and development support.
A special consultation also took place with Prof Warning and Ms Döhne – senior representatives of the Lutheran agency "Bread for the World": on continued cooperation in fighting poverty, in strengthening civil society's role in democracy.
In another meeting, a visit was paid to Dr Stofile, the South African ambassador in Berlin, where exchanges on a number of areas to strengthen ties between Germany and South Africa took place. Dr Stofile highlighted the innovative ways in which German politics dealt with reconciling former East and West parts of Germany, readdressing past wrongs (including the misappropriation of land) in such a way that economic stability and development were maintained.
One of the main outcomes of the discussions with the German leaders – supported by Dr Christoph Benn, Director of External Relations of the Global Fund to fight HIV, AIDS and TB – was that Archbishop Makgoba and Dr Koegelenberg were requested to support the international replenishment process of the Global Fund to raise the funding needed for its international programmes. This include a special focus on the challenges faith communities face to receive recognition and funding for sustainable, community based health programmes – and the lack of proper representation on national  "Country Coordinating Mechanisms" – which defines country priorities for the Global Fund.
Follow-up meetings for 2016 and 2017 (linked to special events in Germany) have already been set to ensure concrete steps in future cooperation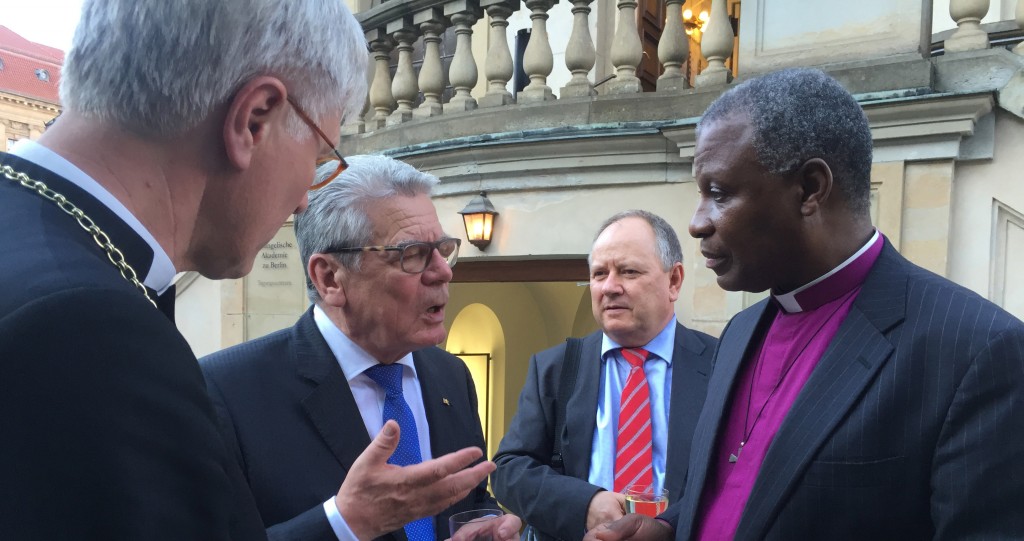 .